Foot traffic is essential to all retail stores. Understand what is driving traffic to adjust your store's experience, store, and marketing strategy. All of this data can be a lot to break down. Analyzing the data through reports, AI-powered insights, and raw data is how you can unlock a greater understanding of your customers and reach higher sales targets.
See our breakdown of what it is, how it works, and how you can manage it effectively to boost your store's performance. 
What is foot traffic?
Foot traffic in retail is the number of people who enter a location within a set time period. It is also commonly referred to as footfall data.
Footfall can be tracked using software, cameras, or even counted manually using counters at the entrance. Using the software is the most accurate method of tracking the data and can even give further insights on how to improve a location's traffic.
Why is foot traffic important?
This data is important as businesses such retailers can use it to discover valuable consumer insights, such as:
Number of visitors at specific times
Number of people walking by the store without entering
Times with the most and least number of visitors
How long visitors stay in the store
The busiest parts of the store
This data can then be used to optimize the business operations and increase sales in retail spaces.
What is POI data?
POI (Point of Interest) refers to a place in the real-world such as a grocery shop, supermarket, park or restaurant.
The location can be permanent such as a civil building or temporary like a pop-up shop.
POIs are used when analyzing foot traffic to identify specific locations.
What is a foot traffic heat map?
A heat map visualizes foot traffic data of a location, district, or region on a map to identify the most and least visited areas.
Using a foot traffic heat map can help businesses evaluate the street potential or performance of a location. For example:
An area with low traffic may not be suitable for a new business.
A store located in a high traffic area, but low traffic in store could have potential for growth.
How to increase foot traffic
Footfall is key to increasing sales. There are many strategies to increase it and, depending on your location and business type, some will be more effective than others. Here's the data on what methods can help.
1. Understand what traffic you can expect
Understanding the footfall in the area, what your competitors are experiencing, and historical performance can give you a better picture of what to expect.
Use a data platform such as Almanac to visualize the data. From here, you'll be able to see seasonal performance and potential traffic. This can give you a benchmark of performance for all other steps. 
2. Improve window displays
Store window displays can increase traffic, improve customer perceptions, boost impressions, and increase sales when done well.
Ensure the customer can see through the display inside the store.
Display trending items.
Consider including promotional offers.
Advertise loyalty schemes or rewards for shopping in-store.
Get creative with seasonal, promotional, or themed displays to stand out.
3. Consider a mobile app
Having a mobile app can increase foot traffic and sales. The Starbucks mobile app accounts for 27% of total in-store sales, driven by their growing rewards scheme. 
Apps can be used to alert nearby customers of events and offers. In the app, you can also promote in-store offers to reward loyal customers and increase footfall.
4. Have an event
In brick-and-mortar retail stores, events make the shoppering experience special for consumers. Think about why customers should visit your store.
Yes, you could have great deals, great displays, and be in a good location, but how do you make it so your store is the first one that comes to mind? How do you get people to go out of their way to visit your location?
Make an event. This gives customers are reason to visit and gives them something extra to do, for example:
Workshops
Hosting a local group meetup
Networking event
Guest speaker
Freebies for shopping in-store
Competition or quiz
5. Improve the in-store experience
This means making sure your store is clean and well-organized, and that your staff is friendly and helpful.
You may also want to consider adding features like free Wi-Fi, a coffee bar, or even a kids' play area.
6. Offer exclusive discounts
The power of exclusive discounts in attracting more foot traffic to your retail store can not be overstated. More than just a marketing gimmick, they provide a compelling reason for new and returning customers to step into your store (both physical and digital), simultaneously enhancing your brand's market share and customer loyalty.
7. Use your social media presence
A retail marketing strategy which includes social media platforms is crucial these days to increasing foot traffic. By using social media effectively, you can reach a wider audience, generate interest in their products and services, and drive foot traffic to where you need it to be.
For ecxample, a clothing store could run a social media contest where they give away a gift certificate to one lucky winner. To enter the contest, customers would need to follow the clothing store on the social platform, tag a friend in the comments of the contest post, and like the post.
8. Network and partner with other local businesses
Networking and partnering with other local businesses is a way to increase traffic to your retail store and improve brand recognition.
When you collaborate with other businesses in your community, you gain exposure to their customer base, and they, in turn, gain access to yours. This can lead to a significant increase in visibility and foot traffic for all parties involved. There are 3 main ways to achieve this:
Cross-promotion: Offer discounts to each other's customers, handing out flyers or coupons for each other's businesses, or simply mentioning each other in your marketing materials.
Joint events: Co-host a product launch, host a workshop or seminar together, or even just having a joint happy hour or social event. Joint events are a great way to get people into your store and introduce them to other local businesses that they may not be aware of.
Partnerships: In some cases, it may make sense to form a more formal partnership with another local business. This could involve things like co-branding products or services, offering joint discounts, or even sharing resources like staff or equipment. Partnerships can be a great way to leverage the strengths of both businesses and create a more compelling offering for customers.
How to convert foot traffic to sales
Now that you understand the importance of increasing foot traffic, it's equally crucial to focus on converting that traffic into actual sales.
It's not just about getting more customers into your store, but making sure those visits turn into buying decisions. This process involves both art and science, and we've got some tested strategies to help you get a slice of this retail success.
1. Optimize the store layout
Once your prepared your strategy to increase footfall, it's time to ensure your store is ready to take advantage of that increase. If your store isn't optimized, you could miss out on sales every single day.
One of the most popular ways to optimize a store is strategic product placement. This well-tested retail method puts seasonal and new products at the front of the store to catch attention. Optimized stores also put appealing products within eye-level on the shelves.
While strategic product placement is important, don't forget your basics either! The store should be easy to navigate with clear signage and have pleasant lighting.
2. Push your digital store
We've mostly been talking about brick-and-mortar retail stores, but even these can have an online store as well. 
Having online store lets you pick up sales regardless of the weather, which can decrease sales in a brick-and-mortar store.
You may bring in a customer to your brick-and-mortar store and, for whatever reason, they don't make a sale that day. They may need to wait until their paycheck arrives, need more time to make a decision, or want to look online for a different deal before making a purchase.
Understanding consumer buying behaviour may help you see the types of consumers and how you can help them make a decision to buy.  
A store visitor could decide to make a sale another day if a convienient option is there for them. To make sure you don't miss out on these sales, you can:
Give out business cards with your website and social media handles.
Include online discounts and deals, sent out via text, email, and social media to customers.
3. Make it urgent
No one wants to miss out on a good deal! Including a sense of urgency, such as limited time offers, has a much better chance of closing a sale.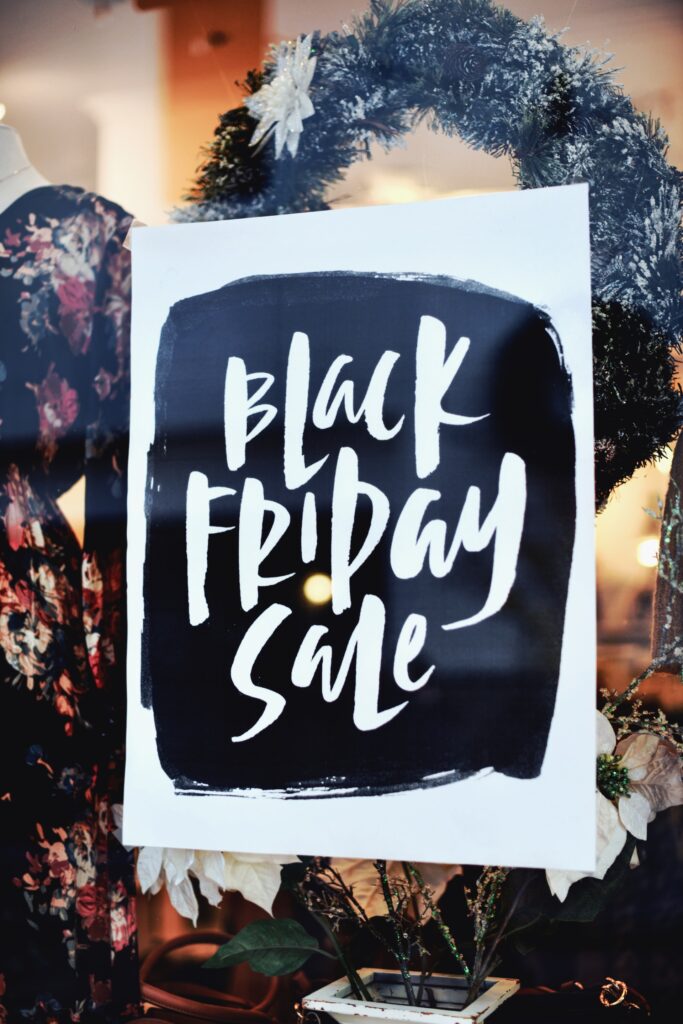 A sense of urgency can be made by:
Displaying promotional signs in bright colours, arrows, percent of discounts, and how long the offer lasts.
Posting about the limited time offer online, perhaps including a countdown until the deal is over.
Sending an email about the offer.
Training staff to remind the customer about the limited time offer and to provide information on the product.
4. Make it easy to buy
The more barriers in place, the less likely a customer is to cross that finish line and buy your product. The easier it is to buy, the better.
You can make the decision to buy easier by offering a variety of payment methods such a cash, credit, debit, buy now pay later, contactless, and app payments.
Buy now, pay later is one of the significant trends in retail in the past few years. Staying up to date with market trends can give your business an edge by being an early adopter.
How to calculate foot traffic and collect the data
Data collection can be done manually or digitally using automated software. In general, using software is the most accurate way to collect your store's traffic data. Some providers also offer insights into your competitor's footfall using retail analytics. 
People counters
Hardware people counters are sensors that use beacons, infrared, pressure, or thermal sensors to collect information on the number of people going through your store's entrance, exit, or other area where they are placed.
The counters are best for recording entrance and exit data. The sensors can't tell you about the visitor's overall movement within the store, such as which sections are the most or least visited, nor can they tell you how well your store is performing compared to your competitors.
Manual counters
Members of staff can use counters to manually collect footfall data. Staff can be posted at the exit, entrance, or another area specifically to monitor foot traffic. Clickers are the most common and affordable method of this type.
Collecting data manually is sometimes done during certain sales or other events, giving your business another data sample to analyze at an affordable cost.
However, manual counting does leave space for human error, which can skew the results and cost you more in the long run than the short-term savings of using clickers.
Wi-fi
Foot traffic data can be collected from visitors who connect their devices to the store's Wi-Fi network. Repeat connections can tell you more about returning customers. Having an internal Wi-Fi network also leverages an online retail strategy to best position your store for sales and customer convenience.
Data collected from Wi-Fi connections can be valuable, but it is specific and only tells you about a certain data set. Customers who choose not to connect to the Wi-Fi network aren't analyzed using this method. Many stores also don't have their own network and so cannot use this method.
Mobile location data
The rise of smartphones has led to smart solutions for retail foot traffic analytics. Visitors can leave a digital footprint if GPS is on or they are using the store's app. The data is then collected by the device, anonymized, and used to understand how many visitors enter the store and where they go throughout the store.
Consumers can opt out of data tracking and some may not have or use smartphones in the store. However, this method is one of the best to track visitor data while respecting privacy concerns. It can be easily combined with other methods such as beacons for higher accuracy and consistency.
Why you need retail foot traffic data
Foot traffic data can help your business make informed decisions quickly.
Comparison: The data shows where you sit versus your competitors to use for benchmarking, location analysis for opening new stores, and other analytics research.
Behavior: Marketing channels and opinion polls can tell you how people feel about your store, but this data reveals their actions – it is objective, actionable data essential to monitoring a store's performance.
AI-insights: Data can be difficult to break down in its raw form, so retailers now use artificial intelligence (AI) to summarise the data into actionable insights and make predictions on consumer behavior months in advance.
How to find foot traffic data
Geospatial intelligence platforms and location data services offer retail foot traffic data from many sources, including mobile networks, to provide insight into any location for multiple sectors.
When looking to purchase foot traffic data, you'll come across two options:
Receive the data in its raw form. This way, you'll get the data to download and analyze yourself. This can be useful if you want to do your own analysis.
Choose a platform. Opt for analysis and reports along with the data for clear visualization of the data. This is best if the chosen platform offers high accuracy, predictive data, and clear insights.
To receive accurate and relevant data, follow these steps:
Sign up for a reputable intelligence platform or service
Open the foot traffic data using the platform or your cloud provider
Filter the data as needed for your requirements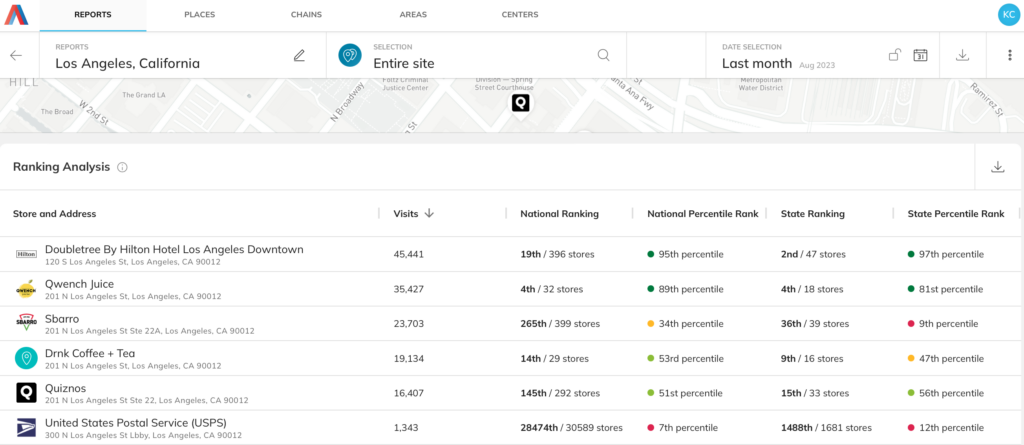 Speak to our team now about foot traffic data and see how we can help you collect, track, and compare data to improve your store's performance.
How to analyze footfall data
Retail footfall data can be used in a multitude of ways for demand forecasting, market and investment research purposes.
The best way to understand and view the data is to use a platform that visualizes it for you. While you can get the raw data and make your own analysis, it is time-consuming.
First, log on to the information platform. The next steps you need to take will depend on your business type and purpose using the data, but can include:
Finding or adjusting retail store locations
Competitor and market research
Checking the results of marketing campaigns
Find or adjust retail store locations
To find a new site, find out how to optimize your current locations, or make an informed decision on store closures, go through these steps.
1. Open a data platform such as Almanac.
2. View foot traffic statistics of the site and its competitors. This can give you an idea of if the site is underperforming, averaging, or surpassing its competitors.
3. Go to operating hours and see if visits align. This can tell you the best hours for business, so you can adjust your opening hours as needed.
4. Check the potential reach of the store. Zoom out on the map to see how far the reach goes – this shows how far visitors are traveling to visit your store. If reach is low, it may be worth reconsidering your retail marketing strategy.
Check the results of a marketing campaign
Successful marketing campaigns have an impact on foot traffic. You can measure the results of your campaign by:
Logging on to the platform and going to your foot traffic data to see the number of visitors.
Add competitors to the graph to see if any increase or decrease is unique to your business.
You can also download this graph and share it with the wider marketing team.
Competitor and market research
Understanding the competition is imperative when you're analyzing your performance within the sector, finding new tenants, or researching investment opportunities. To complete competitor research, follow these steps:
1. Log on to the data platform and go to trend data. This data shows you which brands are heading up or down. You can include multiple brands, such as your competitors, or partners.
2. See who's leading in your region. Break down who the leaders are by location. Using our platform, you can sort by national, state, local or custom level.
Foot traffic analysis is essential to understand your performance, potential, and impact of marketing campaigns. Try analysing foot traffic now.
How much does it cost?
How much the data costs varies depending on the service provider you choose and the amount of data you will access. Chat with our team for more details to get the data you need at an affordable price.
Places with high foot traffic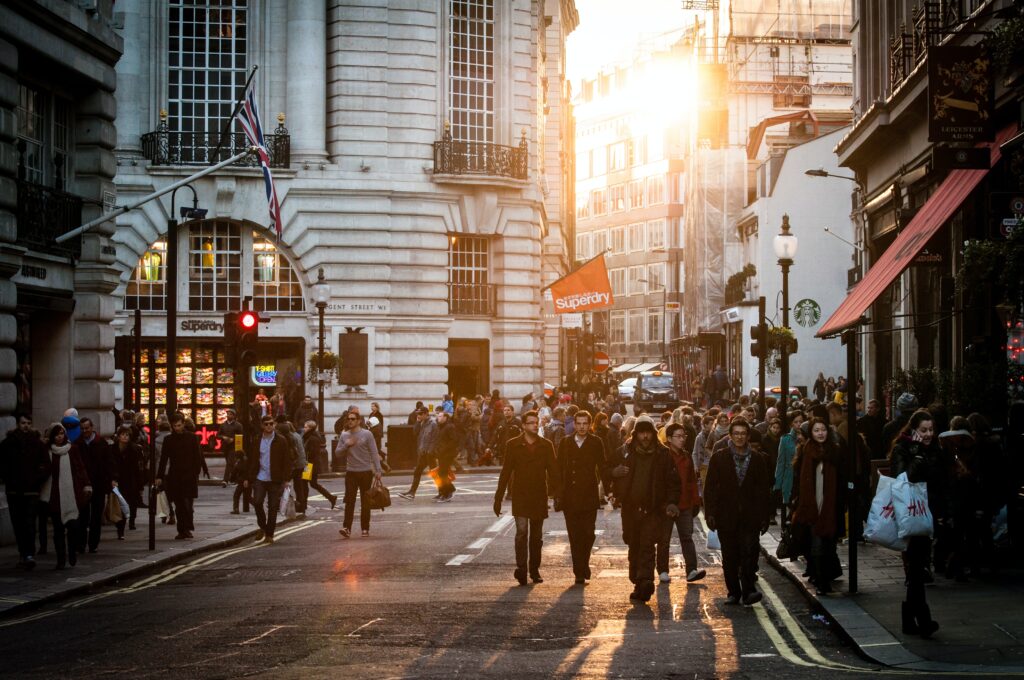 High foot traffic in retail means an area where many people walk through. High traffic areas such as urban commercial areas can reach a count of a few thousand people a day. What stores have the highest footfall varies depending on location and consumer behavior.
In general, urban commercial areas in the largest cities have the highest traffic with supermarkets, fast food, gas stations , and restaurants usually being at the top of the list.
To see specific examples of high-footfall areas near you, you'll have to use a location intelligence service. These services aggregate mountains of data for clear, actionable insights.
Almanac contains years of historical data and is used by companies such as Alphamap and Scanby. Find out more by speaking to our team.
The importance of privacy for foot traffic data
Location data is valuable information, but consumer privacy must be respected. Some regulations to be aware of concerning the collection and storage of location data of this kind are:
European Union's General Data Protection Regulation (GDPR)
California Consumer Privacy Act (CCPA)
We've adapted our practices accordingly to keep up with privacy regulation changes. Naturally, public opinion on location intelligence is a factor that is always on our radar, but that's where pass_by's commitment to transparency comes in. 
We maintain no record of personal data. Demographic insights are provided by external data sources, and when attributed to geo-hits from mobile devices, provide a macro-level understanding of consumer behavior. See our private policy for further details. 
FAQs
​​What businesses get the most retail foot traffic?
According to a report by GasBuddy and Cuebiq, Speedway, Costco, Thorntons and Ricker's have the most traffic. To get an accurate picture of what businesses are driving traffic and how your competitors are faring, use our foot traffic tool which has more than 5 years' worth of historical data. 
How do retail stores track foot traffic data?
Retail stores can track foot traffic with manual and digital tools such as counters, video cameras, mobile location tracking, Wi-Fi networks, and sensors.
What businesses collect retail foot traffic data?
Any business with a physical store can make use of foot traffic information. This includes:
Retailers
Finance companies
Hospitality sector
Mall owners, operators, and businesses within the mall